Welcome to Fort Ross
Fort Ross State Historic Park, a California State Park located on the coast of Sonoma County, was established as one of the first State Parks in 1908. The name, derived from the word for Russia (Rossiia), was originally established by the Russian American Company, a commercial hunting and trading company chartered by the tsarist government, with shares held by the members of the Tsar's family, court nobility and high officials. This history is very unique along the California Coast. To learn more about this amazing place please visit our history section. ....more history and for Children's History....
Fort Ross SHP offers something for everyone. Educational programs that include overnights, full day programs, shortened school presentations, scout programs, and more may be scheduled by contacting us.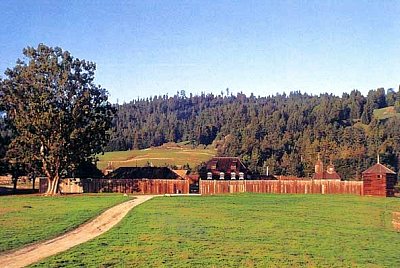 We are open Fridays, Saturdays, and Sundays and major holidays from 10am - 4:30pm
Please call 707-847-3286 for specific park hours or updated information.
For tours and programming please contact us at 707-847-4777 or fortross.interp@parks.ca.gov